Honeygain – passive income generator.
– With your unused bandwidth!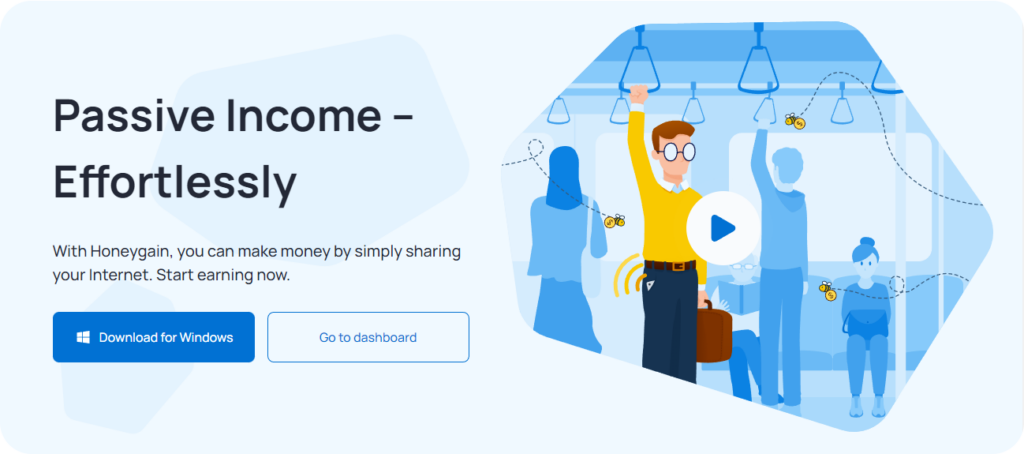 Passive income is a lot easier to come by than you think. It may not make you rich over night, but it's always nice to have something that makes money for you without you having to do to much work. With that being said, Honeygain is the passive income stream that fits the bill.
What is Honeygain?
Honeygain is a crowdsourcing app that allows you to earn money by sharing your unused internet bandwidth. The app is available on Android, iOS, Windows, and Mac devices. Honeygain will use your unused internet bandwidth to provide research and marketing services to companies.
Is Honeygain legit?

Honeygain is a legitimate company that has been in business since 2018. From over 10k+ reviews on Trustpilot, Honeygain has been verified by users to be legitimate. With a rating of 4.5 out 5 stars and over 5 million users worldwide, Honeygain is most definitely legitimate.

How do I start earning with Honeygain?
To get started with Honeygain, simply follow these steps:
Download the Honeygain app from the App Store or Google Play. If you are on Windows or Mac, you can download the app and install it.
Create an account and sign in.
Click on the "Start Earning" button to start sharing your bandwidth.
You will earn 1 credit for every 10 MB of data that is shared. 100 credits are equal to $1. Once you have earned $20, you can choose to be paid via PayPal, Bitcoin, or Amazon gift cards.
How much can I earn with Honeygain?
The amount of money you can earn with Honeygain will vary depending on a number of factors, including your location, the amount of bandwidth you share, and the number of friends you refer.
In general, you can expect to earn between $5 and $10 per month with Honeygain. However, some users have reported earning more than $20 per month.
If you create a JumpTask account, you can earn 20% more in credits from Honeygain by linking your accounts.

Here are some tips for earning more money with Honeygain:
Keep the Honeygain app running as much as possible. The more data you share, the more money you will earn.
Run Honeygain on multiple devices. You can earn more money by sharing your internet bandwidth from multiple devices (Different IP Address is required per device).
You can earn more money by referring friends and indiduvals to Honeygain. You will earn 10% of the earnings of each person that you refer.
Honeygain is a great way to earn some extra money passively. It is a simple and easy way to make money with your unused internet bandwidth. The app is very easy to use and safe to install. If you are looking for a way to earn passive income money, Honeygain is a great option to consider.

You can also check out other freebies such as the #1 Survey Site, Free PlayStation Cards and Free Xbox Gift Cards for more ways to earn passive income online.